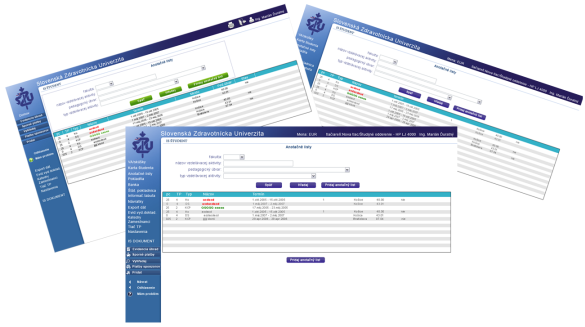 This information system was created for management of postgraduate studies at the Slovak Medical University in Bratislava. It has been operationg for over 10 years. Postgraduate studies are realized in the form of a series of trainings and examinations on the basis of which it is possible to issue the corresponding certificates.
The information system contains the following modules:
Preparation and generation of a thematic plan with a list of training events for the following school year.
Register of educational branches and pedagogical units of the University.
Registration of training events and exams – allows applicants to be assigned to a specific training event / exam, to send invitations, to verify payment, participation / outcome of the exam and subsequently to issue relevant documents. It also offers to invite trainers and write down their pedagogical burden.
Preparation and printing of various documents necessary for the contact of the secretary with students and trainers.
Student Card – provides an overview of completed studies, exams and fees paid.
Module Bank – receives data from the bank about payments and automatically matches them with individual charges.
Module Cashier – provides the possibility to pay the fee in cash.
Information Board – displays up-to-date information on training events, their location and time at the boards.
Staff module – staff records, their pedagogical burden and preparation of data necessary for university accreditation.
The whole system is complemented by the module of statistics where it is possible to obtain the necessary statistical data.